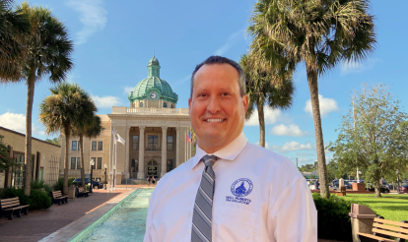 Will Roberts has been a public servant for most of his professional career. Currently, he serves as Volusia County Tax Collector – the county's first elected tax collector in 50 years. As a constitutionally elected officer, Will feels directly accountable to the citizens in Volusia County and is dedicated to managing State resources while respecting the public's local needs.
Prior to his election to the Tax Collector position, Will worked for more than seven years as a tax supervisor in the Volusia County Revenue Division where he oversaw $680 million in property tax collections. His experience with tax collection and his education have instilled in Will a dedication to providing excellent customer service, ensuring accurate transactions and educating the residents, citizens and taxpayers of Volusia County on the services offered by the tax collector. He has made it his mission to improve the convenience of receiving services through online applications and by adding new, related services in the offices in the coming months, including birth certificates, driver licenses and concealed weapon licenses.
Before moving to Volusia County, Will spent seven years serving in the United States Air Force at multiple duty stations domestically and abroad. This experience laid the groundwork for a career in public service. He spent seven years as a corrections officer in the Volusia County and Seminole County jails. Will held other positions in the community while he worked his way through college earning a master's degree in public administration at Nova Southeastern University, a bachelor's degree in business at the University of Central Florida and a an associate's degree in business from Daytona State College. He also has earned the designation of Certified Florida Collector (CFC), which recognizes his knowledge and experience with the collection of taxes.
Will continues to demonstrate his commitment to his community through volunteer work. He is a member of the DeLand Rotary Club and Volusia County Young Professionals Group. He also is active in his faith community by volunteering at fundraising and fellowship events.
Will has been happily married for 19 years. The couple has two children. He enjoys spending time with his family including his parents and his mother-in-law and staying active whether it's at the beach or participating in a 5k run.